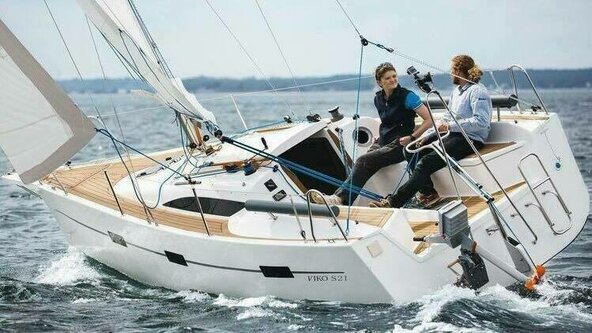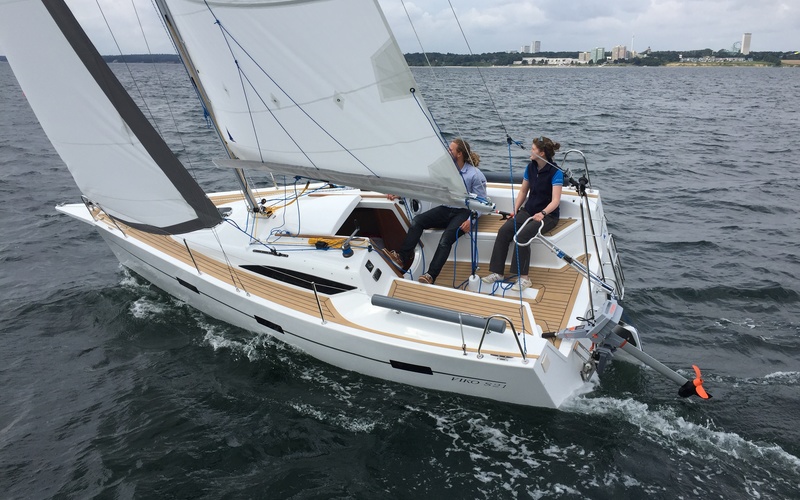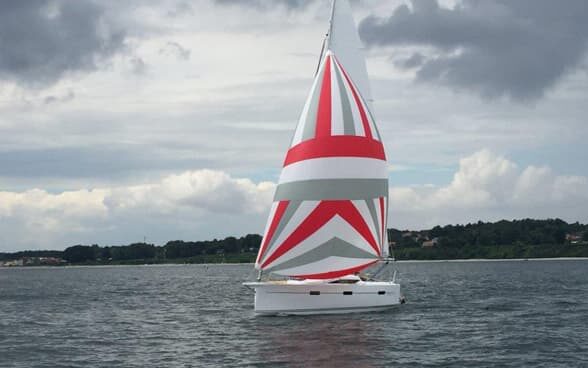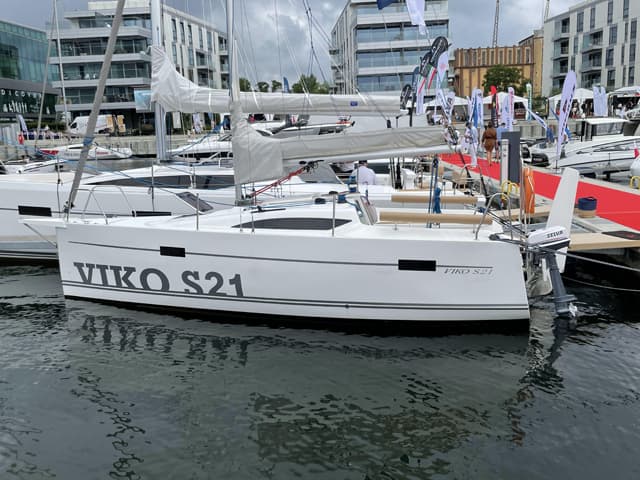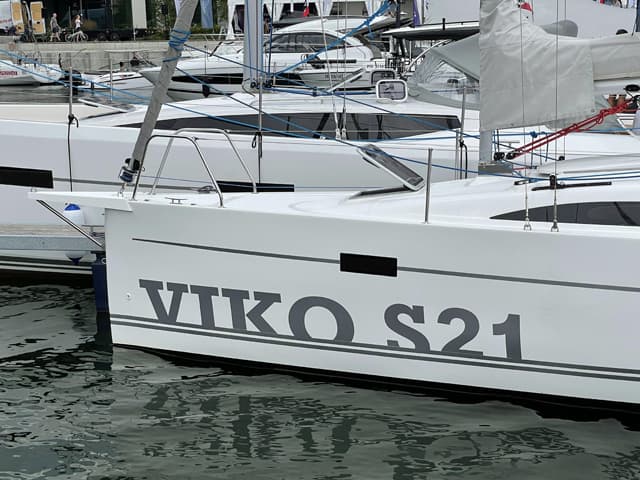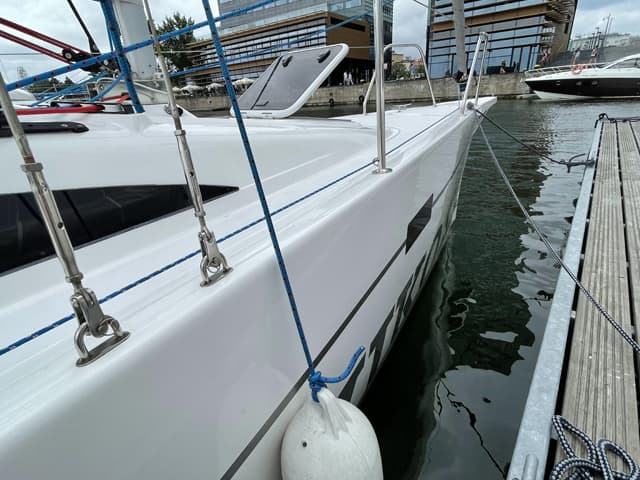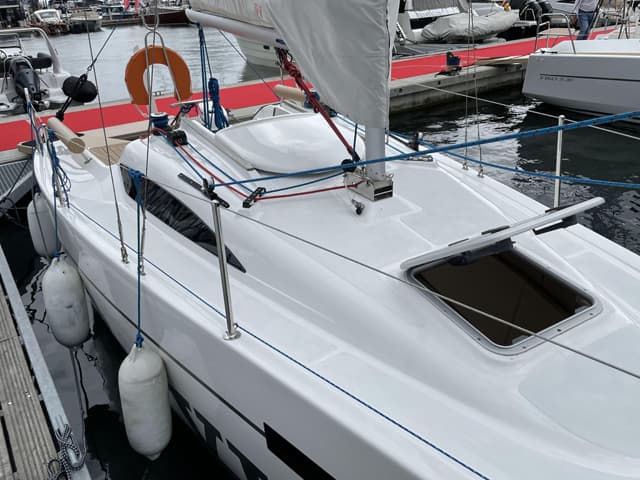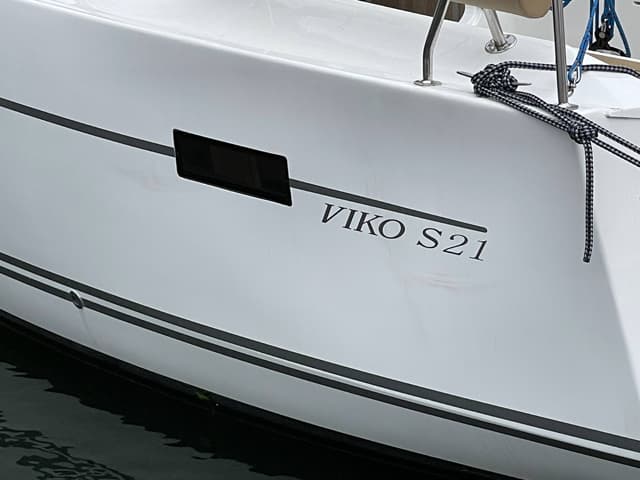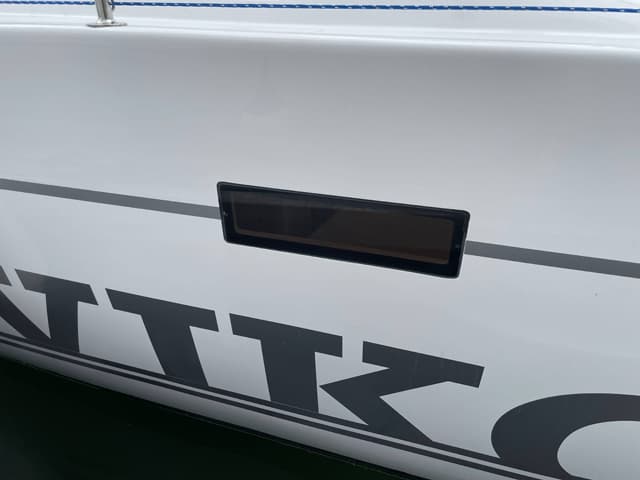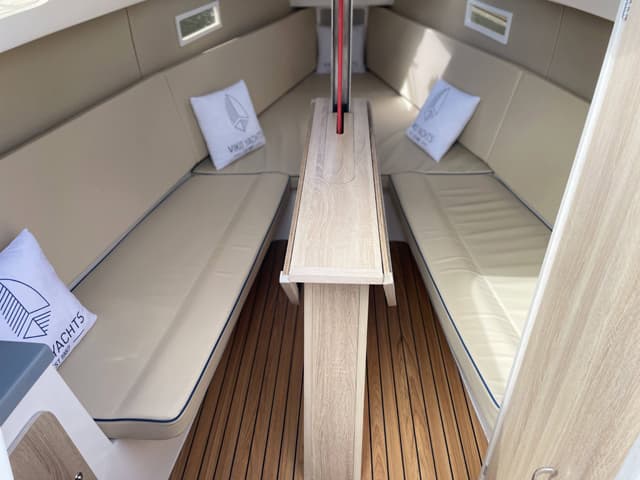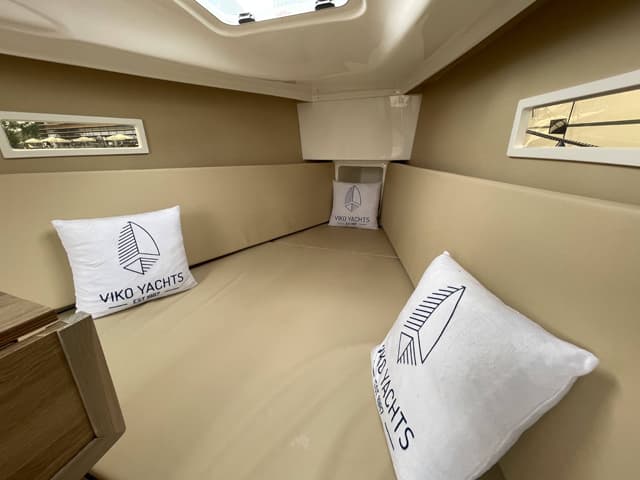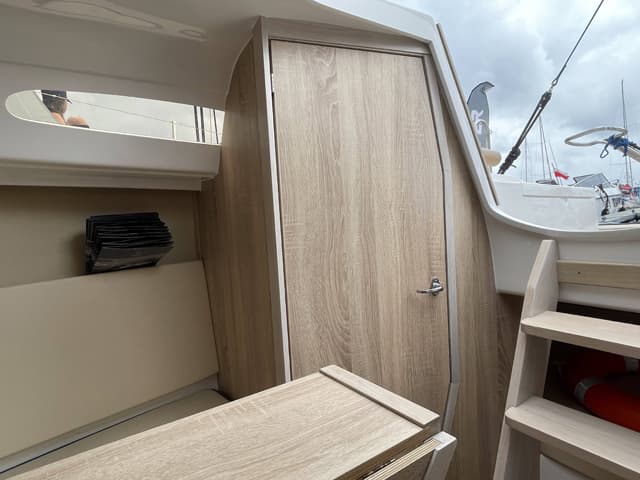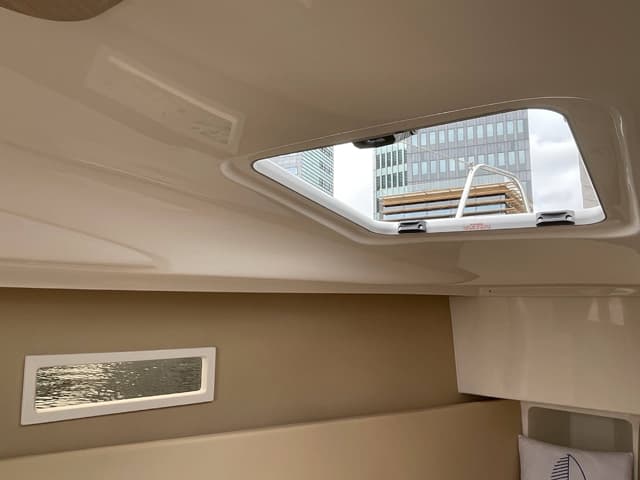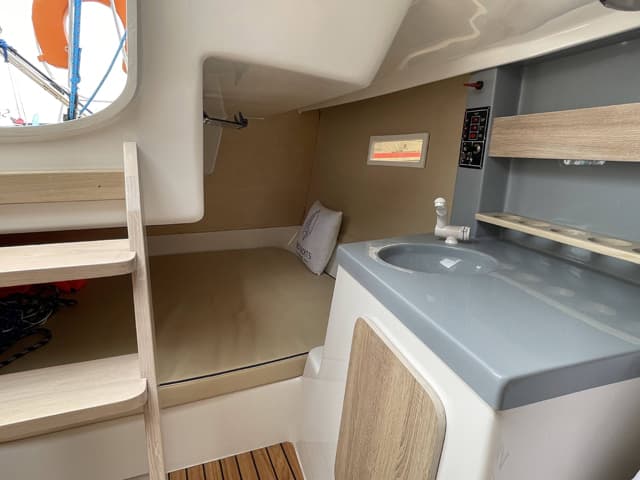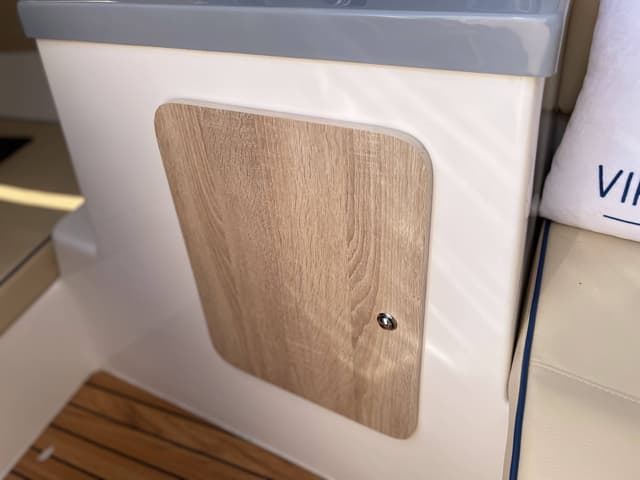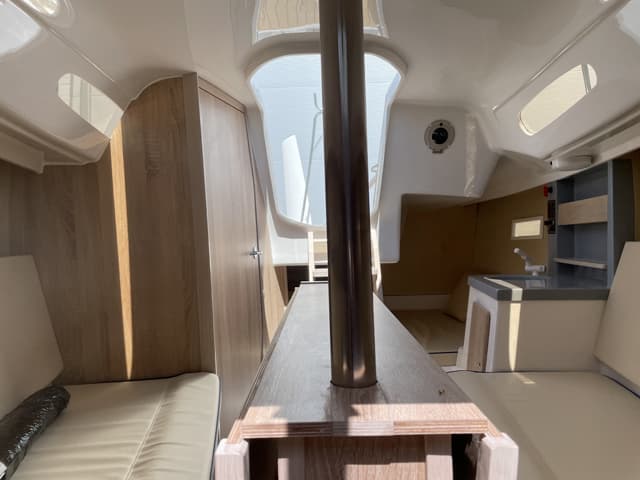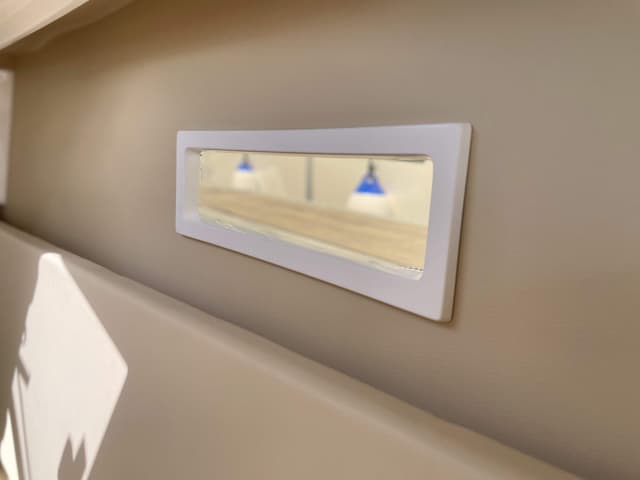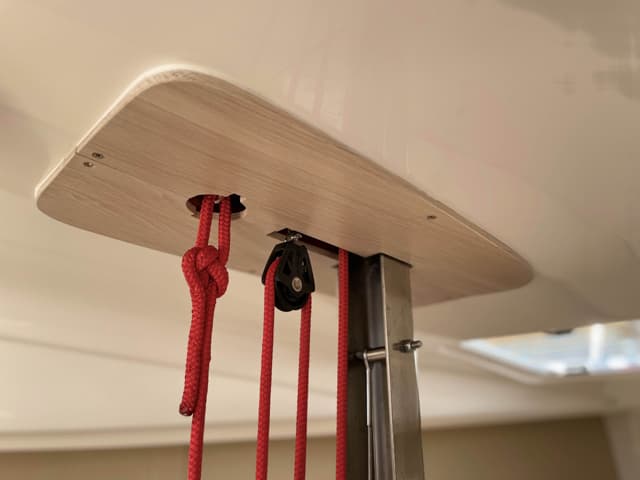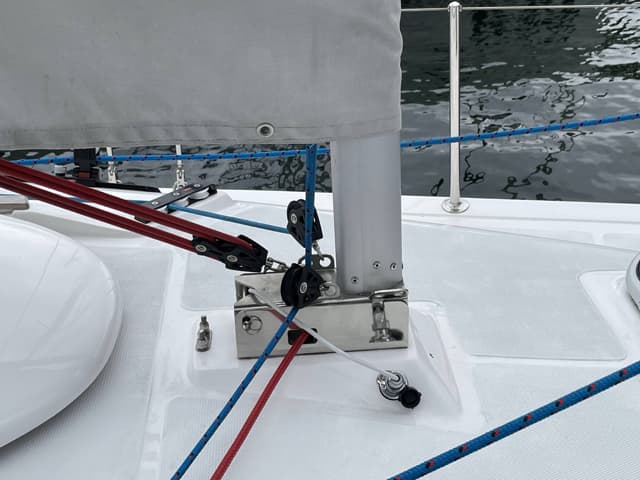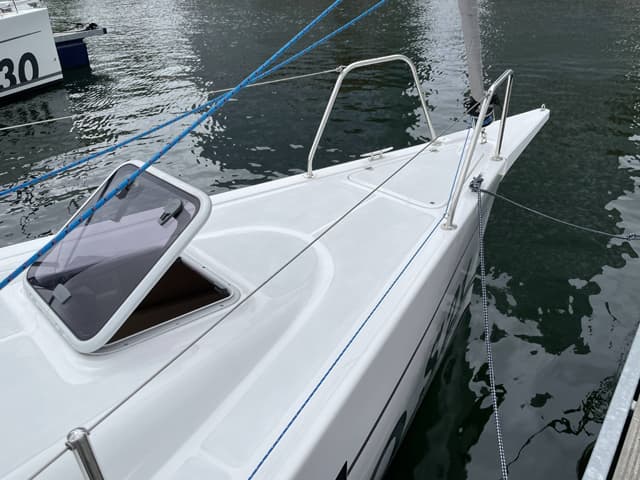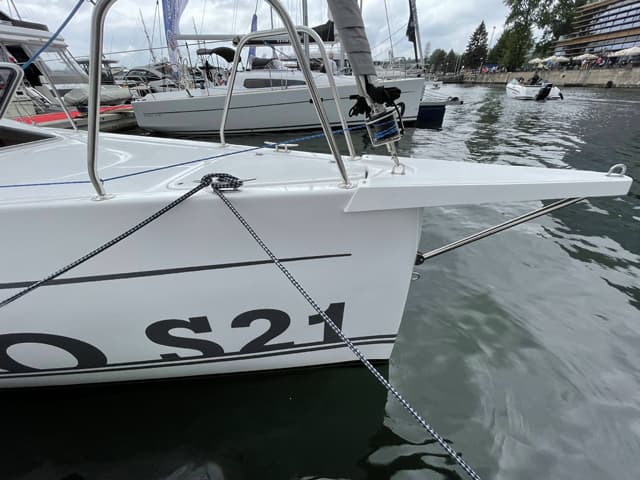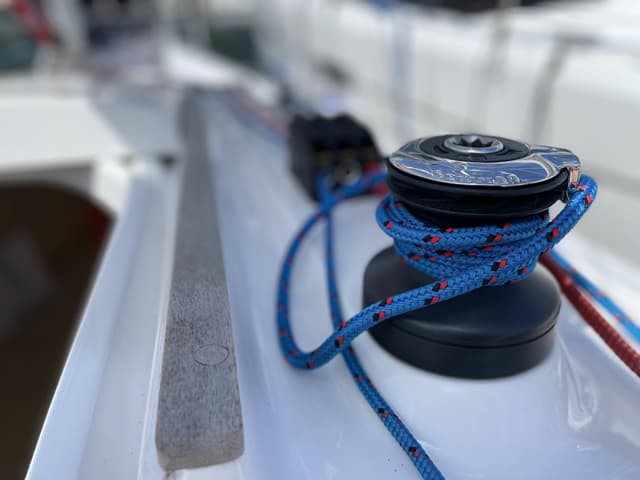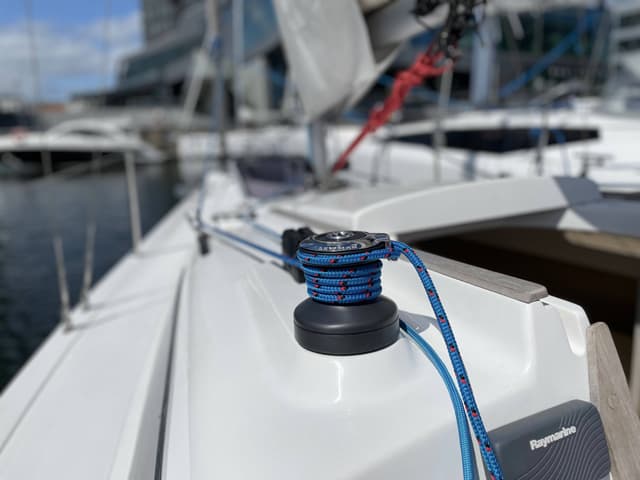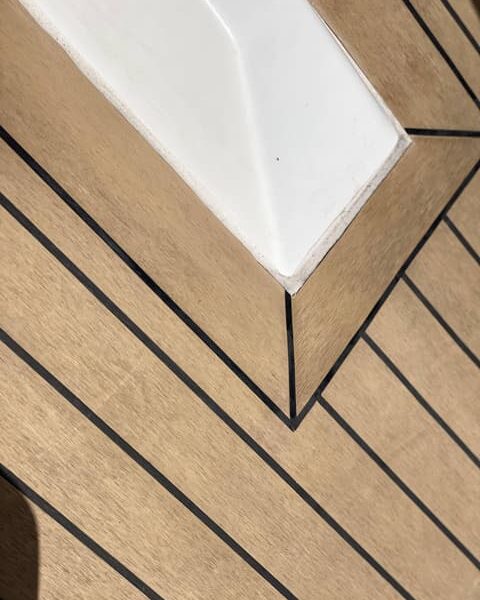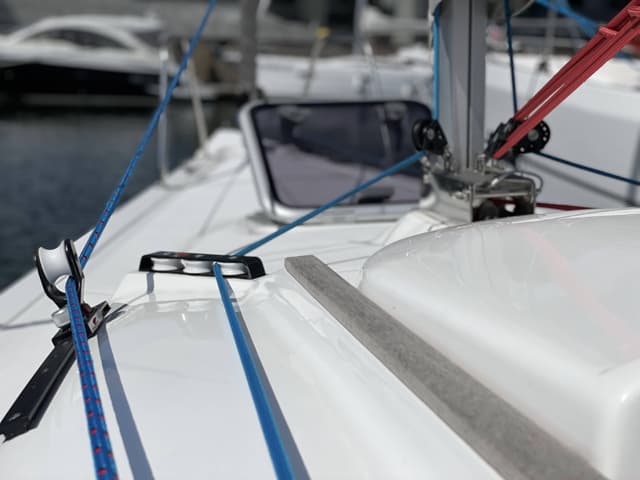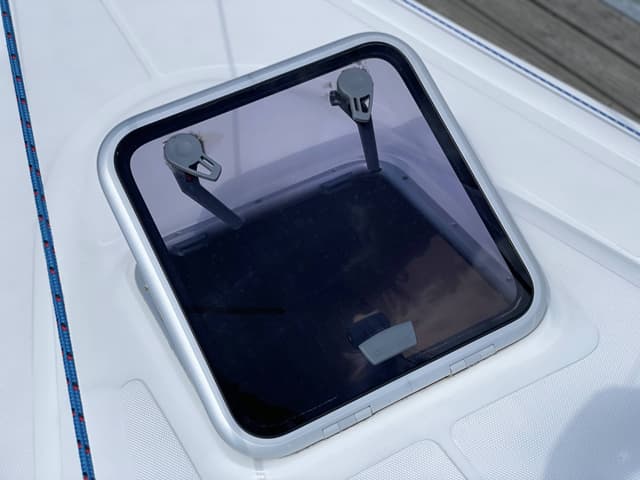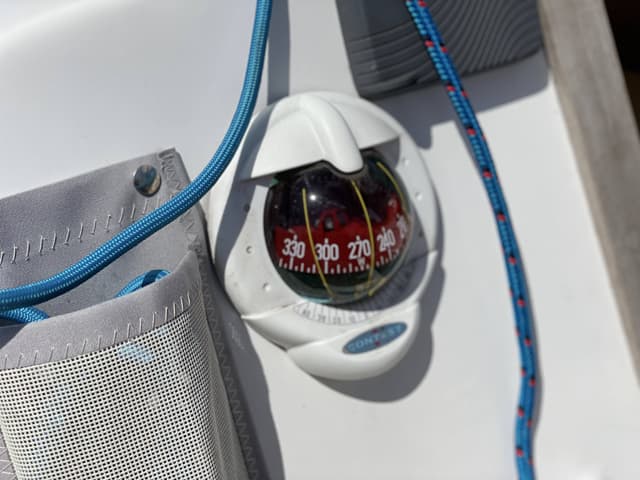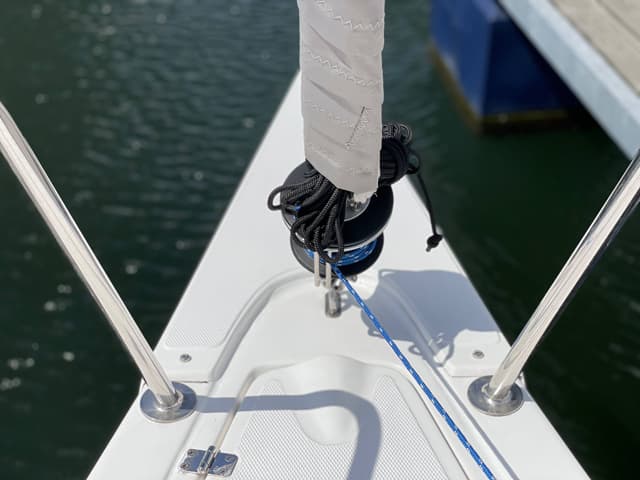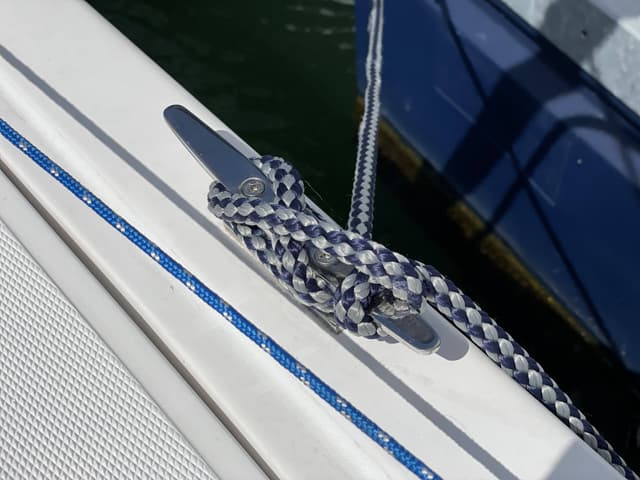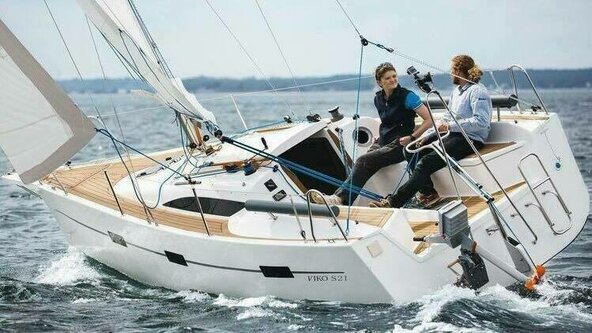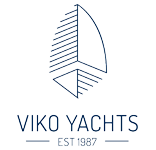 Viko S21
LOA: 6.5m
Draft: 0.25m/1.2m or 0.5m/1.4m
Displacement: From 950kg
Gennaker Area: 26m2
Berths: 4
Price from £26,950 Inc VAT!
Viko S21 – Great small starter yacht
Now available at The Small Yacht Company, the Viko S21 makes an ideal starter yacht or downsizing option. Fun to sail, light and easy to manouver and bags of room down below. Even if you're used to something bigger there is no need to crouch in this cabin, the S21 is a pocket cruiser which thinks its a superyacht! Not only does it boast 1.65m of standing headroom and a cavernous rear double berth, customers can also choose to have a full separate heads compartment.
An S21 to suit your sailing style
Available as a superlight weight swing keel version or with a fixed or lifting T-bulb keel containing a class-leading 450kg of ballast these little boats can be customised for your favourite cruising area from lake sailing to coastal passages. A variety of sail options are available for every sailor's needs from undemanding day sailing to full on racing. Customers can even add a bit of fun and extend their cruising range by opting for a furling gennaker flown from a bespoke bowsprit platform.
Common to all S21s is a light weight rig, ergonomically designed large open cockpit and smart deck layout with all lines leading aft. UK bound boats come with high standard deck equipment by Antal, Lewmar and Ronstan as well as roller reefing, jib UV protection, and masthead nav lights. Shorthanded sailers who regularly drop their masts can opt for class leading mast lifting gear which makes the process effortless and almost risk-free.
The UK boats will come laden with deck fittings including a swim ladder, an outboard bracket, pulpit and pushpits as well as a deck hatch. These little Vikos come with an array of comfort options too ranging from flexi-teak deck coverings to sprayhoods and lazybags – even cockpit backrests.
A light roomy interior
Down below the large windows and hatches allow plenty of light to fill the spacious cabin. Those hankering for even better views from the cabin can opt for up to 6 extra windows.  No need to crouch in this 21 footer – there is plenty of room in the standing galley area. The cleverly designed companionway steps can be removed, enabling crew members to move around each other with ease. UK customer will get a 12v electrical system and pumped water installation included as a standard package. Customers also can opt for the heads compartment, offering an almost unheard of level of privacy for such a small boat with wet weather gear hanging to boot!
Design your own Viko S21
In common with all boats in their stable, Viko allow customer to customise their boats to their own tastes.  So, cushions are available in a range of fabrics and colours, woodwork can be finished in a variety of shades and Flexi-teak in a multitude of tones can be added to the cabin floor. Customers even have an unlimited number of colour options for the galley unit.  On top of this a choice of electrics choices can be made over and above the standard 12v circuit.
So, start customising your new Viko S21 today. Get in touch with us for a viewing or demonstration sail on the South Coast.
Beam: 2,50 m
Displacement:  950 kg (Swing keel)/ 1,100kg (Fixed or lifting T-Bulb keel)
Min draught: 0,25/0,50 m
Ballast weight: 300kg (centreboard)/450kg T-Bulb fixed or lifting keel
Mast length: 8,50 m
SAIL PLAN
Gennaker: 26 m2
Cabin headroom:  max 165 cm
Berths:  4
Crew: 4/6
Design category: C/B/C
Our Youtube review of the S21: Click here 
Transcript
Hello, Hein Kuiper here.  We're at the NEC Boatlife Live show today and we're taking a little look at the Vikos that are on display. I wanted to use this as a means of introducing you to the Viko S21.
I'm going to mix that with a bit of footage from when we took the boat on location  (on the water). We're going to walk you around it just to tell you a little bit more about these lovely little trailer sailors.
Here you have the bow section of the Viko S21.  This one's got a bow sprit option attached for flying a gennaker (26m2). You can see it's a relatively high top sided boat so you do get lots of room inside as a result of that and you get a really nice dry ride when it comes to sailing one.
This one's sitting on a trailer – it sits nice and squat and the reason for that it's got a centerboard (25cm draught). There's two versions of keel available: one is the (300kg) centreboard like this one which can sit flush with the hull and the other one is a (450kg)  bulb keel version (fixed or lifting) the lifting bulb sits slightly below the hull and therefore protrudes a little bit more (50cm draught).
What you get on these little Vikos is a large open cockpit which is open at the back.  Lots of room to move around.  This one's been done in a lovely grey teak effect and it looks stunning.
One of the amazing features about these little boats is the amount of headroom you've got. I'm six foot tall and with just a little bit of crouching I can actually stand up in here very well. What you've got down here is a set of steps which are removable. By moving them out of the way you get a tremendous amount of area to move about in and to be able to
get into the rear berth and things like that. So in other words when you're in harbour, you've got the hatch down it means that you've actually got space to be able to move around the boat.
Taking a look inside the cabin, you've got a light cabin lots of light coming from the portals and the windows and then there's further portals towards the front. Loads of space. There's a  v-berth here to be able to sleep or relax on and  then you've got a table area which allows you to seat, I would say, about six. Not bad at all for a 21  footer.
Then somewhat unusually this boat even has a private heads with room for hanging all your wet weather gear. Amazing from a boat of this size.
I'm taking a quick look at the galley section.  You've got a reasonable amount of room to store things, wash up and, of course, store stuff down  below as well. There's lots of room in here.
What sets the Viko 21 apart from most of the boats in this size is that it's actually got a full double berth at the back. As you can see the bed's been made up for me – it goes right underneath the cockpit.  Massive – which you wouldn't believe on  a 21 footer.
I'm now on the double berth in the back of the Viko S21 and it's huge. How much room have I got up here? That's probably at least a foot. I'm six foot tall. I'm turning around the camera for a minute. Those are my feet and they're at least a foot away from the end. So I'd say even if you're six foot six tall you've got plenty room still to move around in – it's got loads of width too.
Looking in a little bit more depth at storage.  You've obviously got some over the sides, you've got some right at the very front and you've got some under there as well. A large space to store stuff. (There is also a large storage locker underneath the rear berth.)
The rig of the Viko S21 (23m2) is fractional with a roller reefing system for the jib. A mast with a decent amount of bend in it for sail trimming purposes. Light spars – lots of trimming opportunities from the cockpit. (Stack pack is an option).
As part of the lifting system the mast foot is elongated and pivots all the way back to avoid that the mast itself crushes the hatch or any other area at the back.
As you can see on the back, there's a permanent mast support bracket (optional) that the mast can be dropped onto at a moment's notice. The Viko S21 comes with a pre-fixed a-frame as an option which is there to help raise and lower the mast, making sure that you've got no lateral movement.
It's integrated with the forestay so it stays where it is. Nothing to stow away – it's nicely fixed in position. A really clever system because once you've raised the mast and put the pin in and all you have to do is pull this little (mast raising) line out. The mast is ready and everything locked in position.
From this angle the a-frame fits neatly around the anchor locker, which is still leaves lots of space to manoeuvre on the foredeck.  This is also where the water tank inlet is located. A big anchor locker actually – there's plenty of room for anchors and other things.
Ben's going to do winching duty on the keel and we're just going to demonstrate how well that works. There's a keel down here. (We've speeded this up. It took Ben just under a minute to raise the 450kg T-shape bulb keel).
You can see that this cutout means that all the weight is down at the bottom of  the keel rather than at the top.
Nearly there Ben! Yeah, that's it.
So the keel is now up and Ben is just about to ease it down. (When down the T-shape bulb keel draws 1.4m. The centre-board keel draws 1.2m.)
When that wire is tight the keel will be fully down that's it – easy peasy!
Next we took the S21 out on the water, first in Norfolk on inland waterways and after that in the Solent.
(We had f4 here gusting f5 on the Broads. Ben is using the leeward cockpit seat to brace himself. There is also a central bracing position in the centre of the cockpit sole.
The S21 turns on a sixpence and can be sailed easily single handed.
Next, we sailed the S21 in the Solent in a gentle f3.
Reaching, the little Viko happily kept up with a Contessa 32 … whilst providing a relaxed, dry ride.
Once hard to wind, the fine entry point cut through the Solent chop and pointed well.)
Good speed through the water now.
If you would like to experience the Viko S21 yourself then contact us at Boats on Wheels.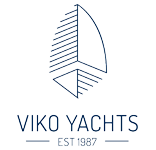 Viko S21
LOA: 6.5m
Draft: 0.25m/1.2m or 0.5m/1.4m
Displacement: From 950kg
Gennaker Area: 26m2
Berths: 4
Price from £26,950 Inc VAT!