BTC-22 High Performance Trailerable Cruiser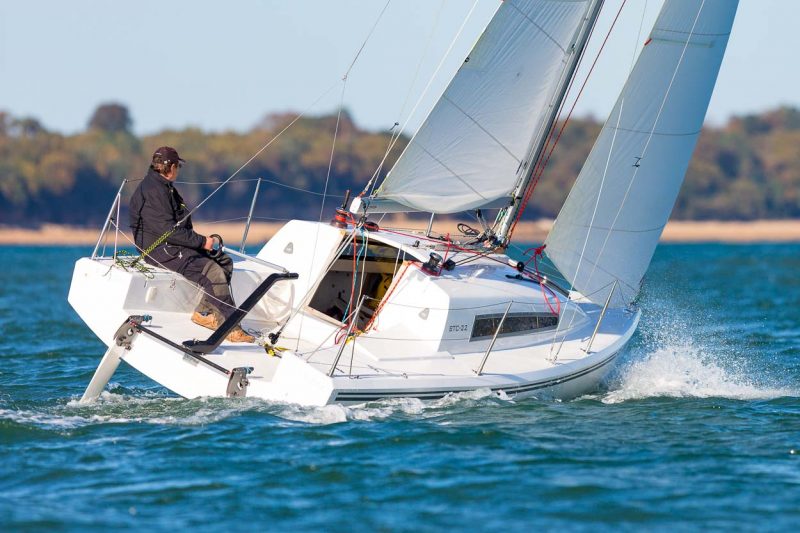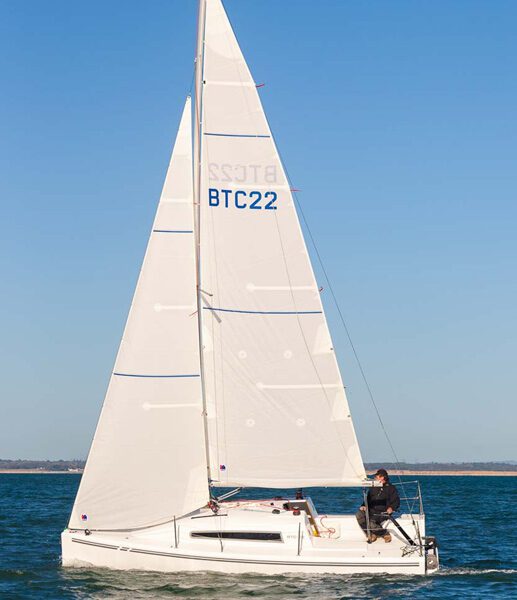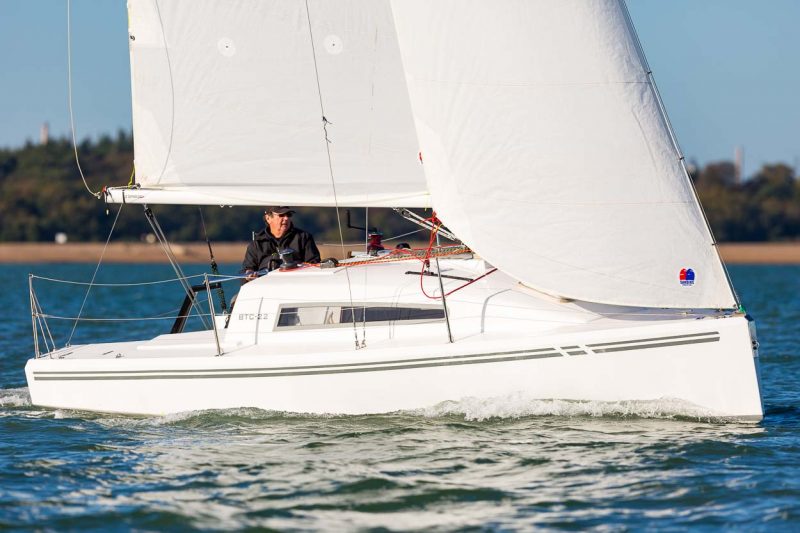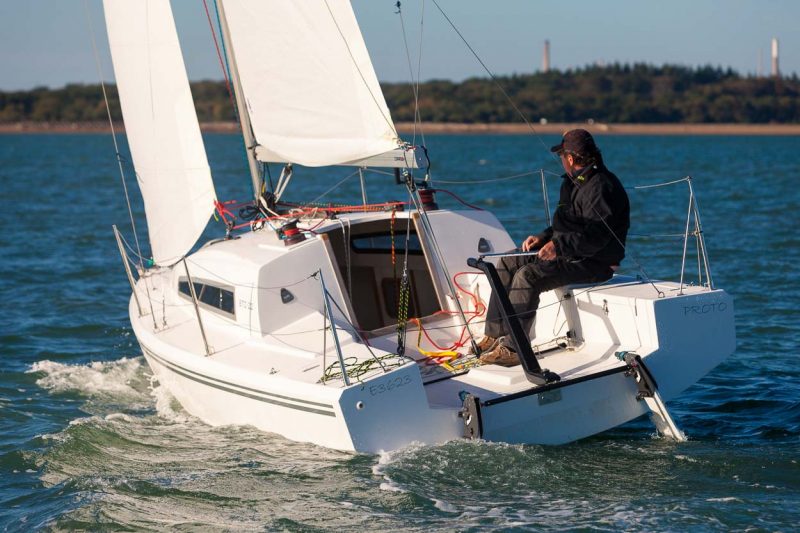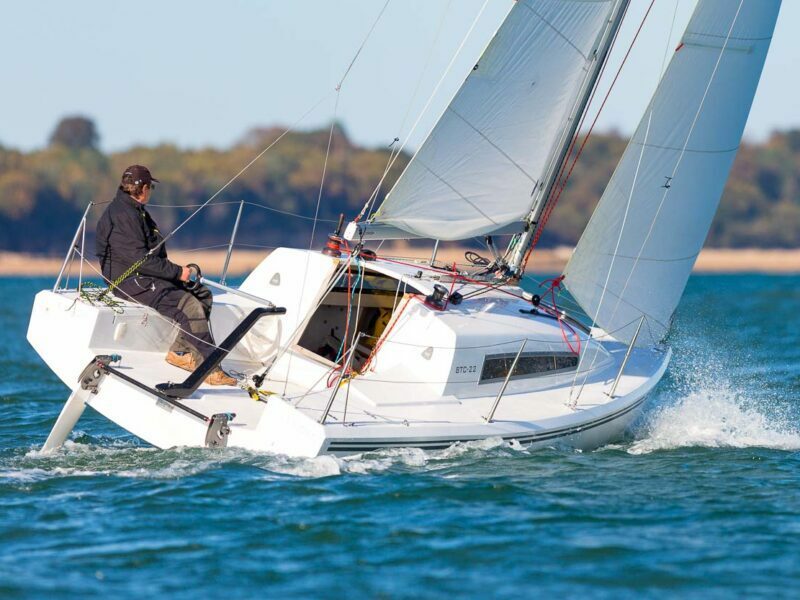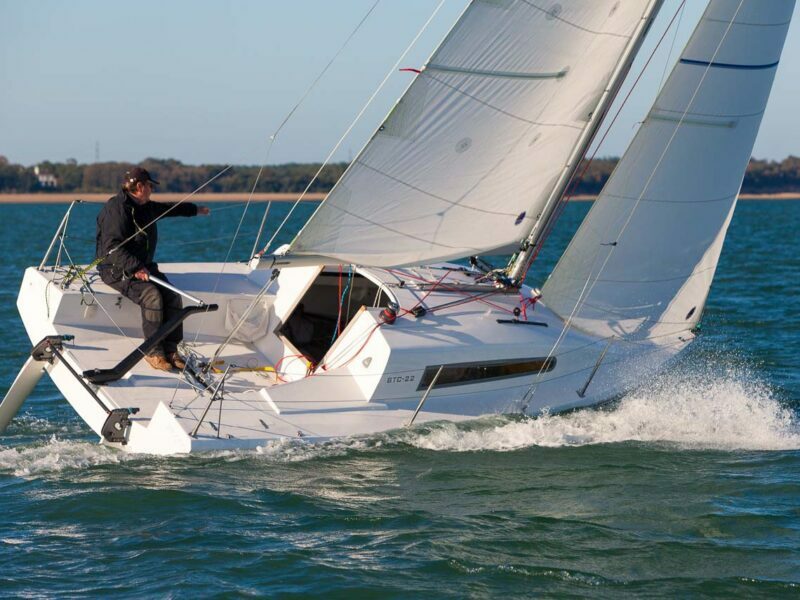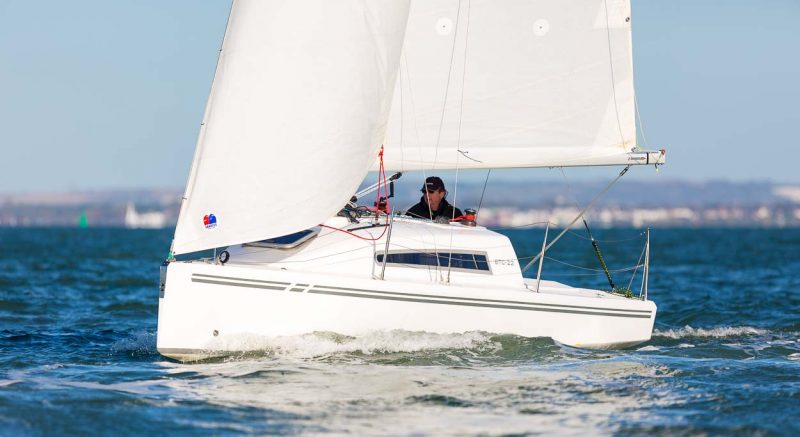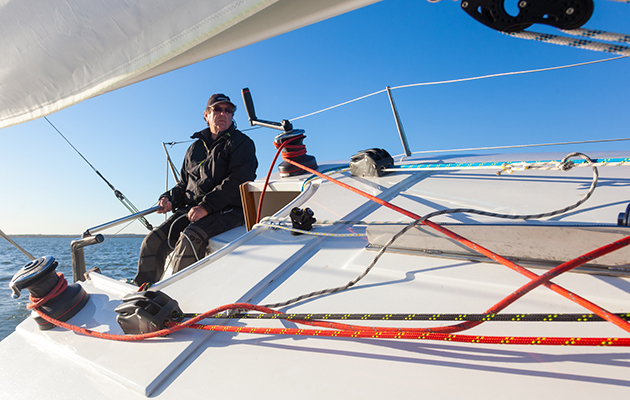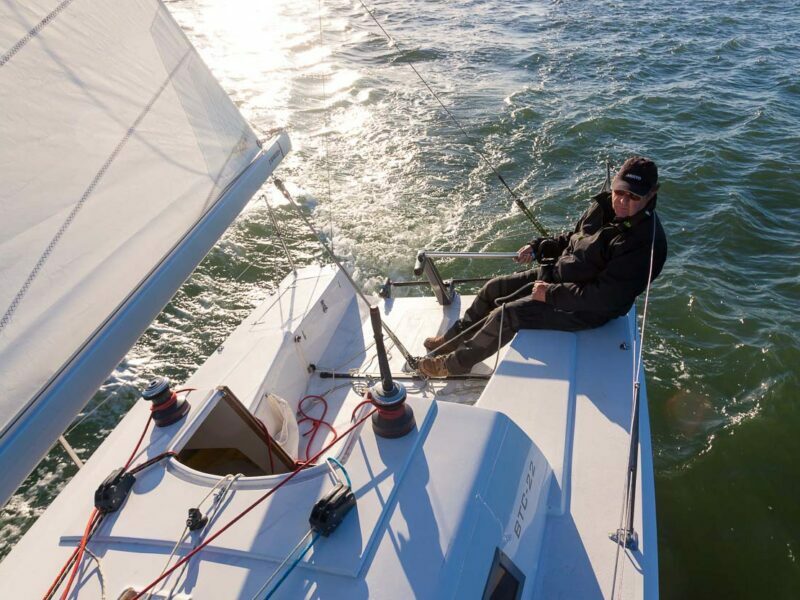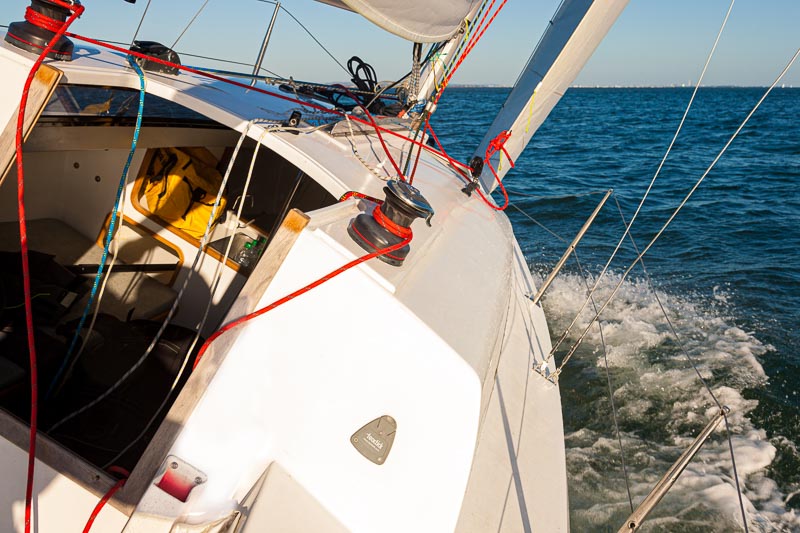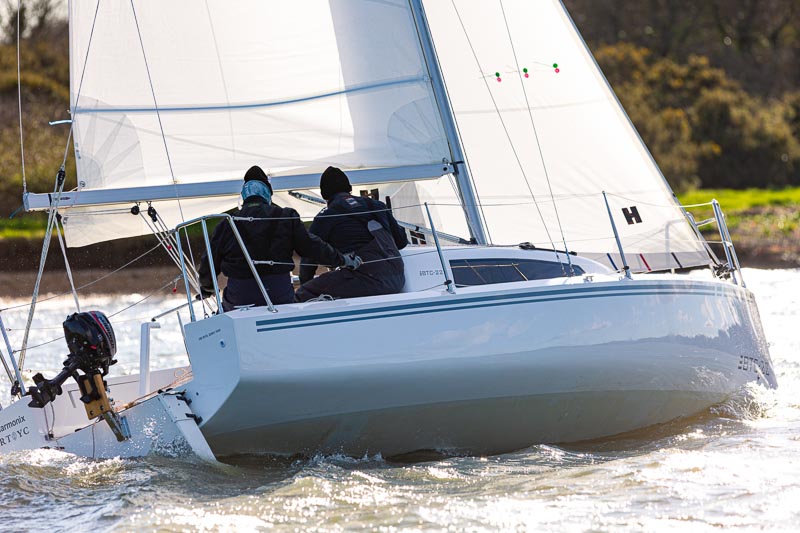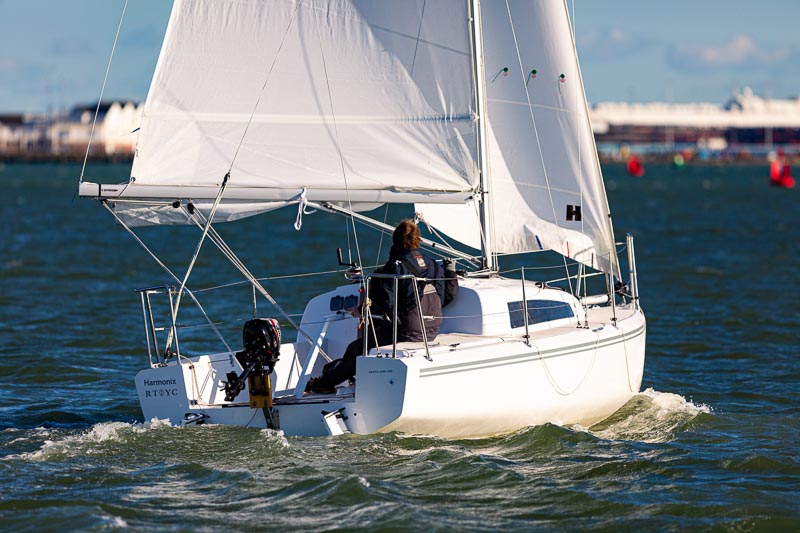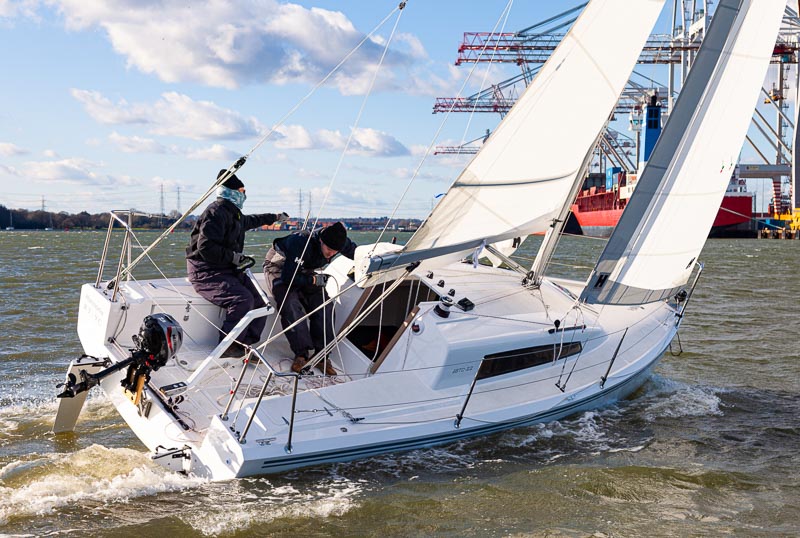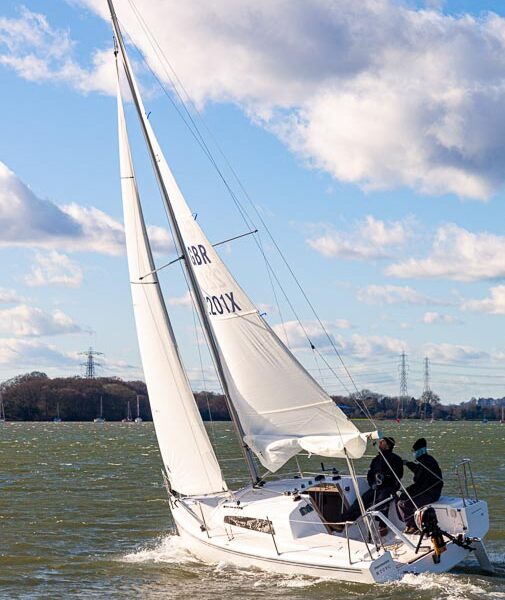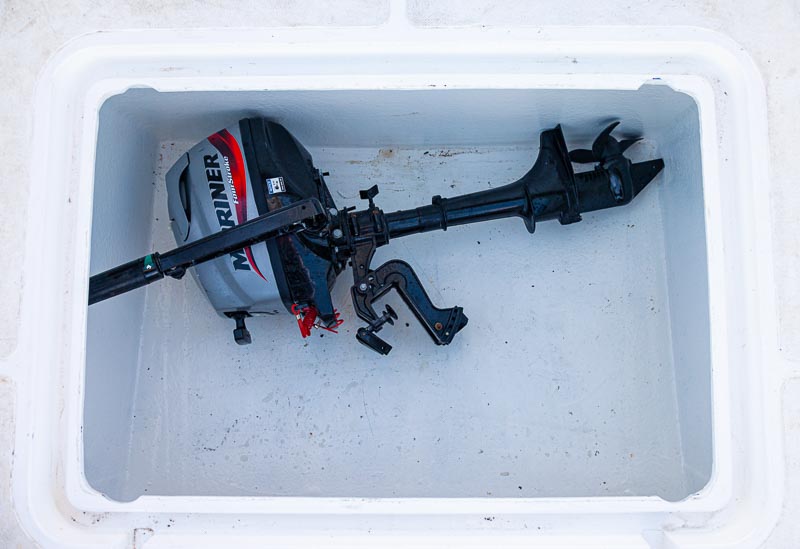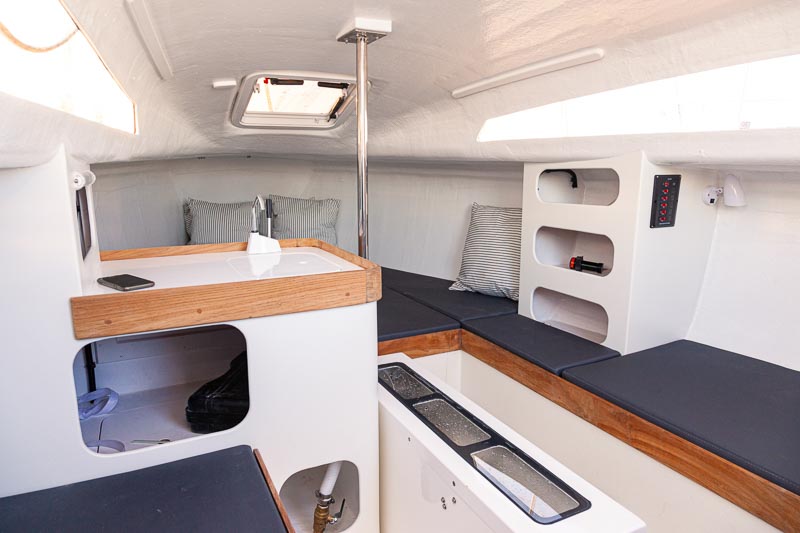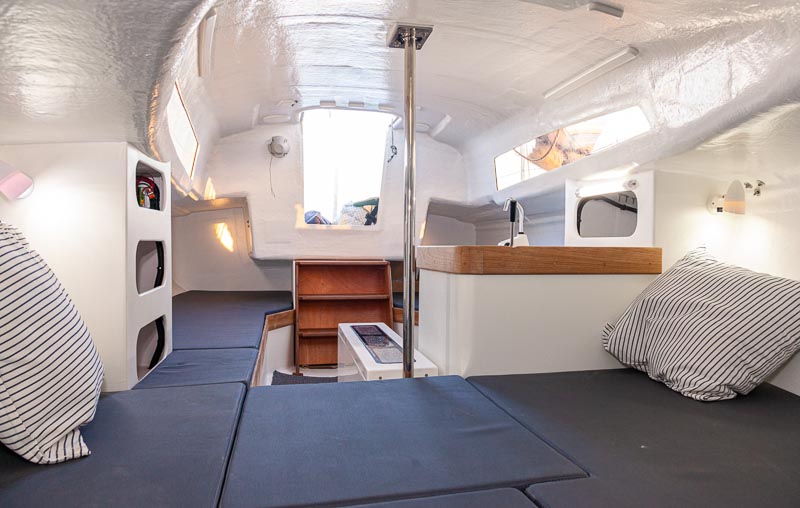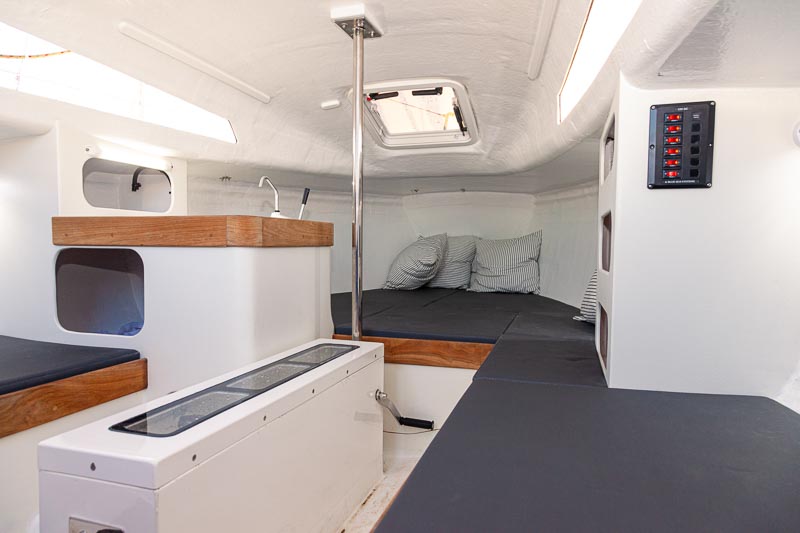 BTC-22 High Performance Trailerable Cruiser
LOA: 6.81m
Draft: 1.5m
Displacement: 940kg (Trailer weight)
Mainsail Area: 16m2
Genoa Area: 10m2
Berths: 4
Price from £43,950 inc. VAT
Introducing The BTC-22 High Performance Small Cruiser
The new BTC-22 ('Buckley Trail-able Cruiser 22') Mark 2 is a British built high performance cruiser/racer which has been designed around the needs of single handed, family and racing sailers alike.
Boasting a super light, resin infused hull with a high degree of 'stiffness' the BTC-22 also offers a powerful rig, a large open cockpit, coupled with a contemporary hull shape, long water line, profiled bulb keel and twin rudders. As a result the boat handles superbly, points exceptionally well and its quick – it's been clocked at 15kts off the wind!
So, the BTC-22 is sure to please the sporty sailor. Yet this small yacht doesn't require a full racing crew to achieve great performance. The BTC-22 has an open deck plan which uses modern high spec deck fittings, managed from the cockpit, making for low effort sailing fun. The tiller of the BTC22 is well positioned in the centre of the cockpit, enabling easy access to all control lines, even single handed. The helm, connected via a stainless steel/carbon fibre rod steering system, feels superbly well balanced under sail in a wide range of wind strengths – no need to reef early on this stiff little yacht.
Despite the performance layout, crew will feel safe on-board with double guard wires led through cleverly placed outboard stanchions all around, enabling ease of movement on the BTC's wide gangways. As for practicalities, there is plenty of storage above deck with two cockpit seat lockers and one huge locker under the cockpit sole, big enough to take an outboard motor or tender and lots more besides. In the bow there is an easily accessible anchor locker and a pivoting outboard bracket is placed centrally on the transom.  Thanks to a lifting bulb keel and optional mast lifting system this boat can be trailered, rigged and launched single handed.
Below decks, the BTC22 can be delivered as basic and lightweight as the keenest of racers might like but this boat can be fun for entertaining family and friends too. There is a surprising amount of space in the large airy cabin for a 22 footer with such performance credentials. The BTC has good headroom and 4 spacious beds – one generous 2 metre V-berth and two giant settee berths measuring 2.5 metres each. There is plenty of storage under the removable companionway steps and under the berths to accommodate longer on-board stays. Add an optional galley unit, fresh water installation, acres of cushions and space below the V berth for a removable chemical toilet and you have all the components needed for comfortable overnight stays. Yet there are more subtleties to add – the BTC Mark 2 has a cored hull and deck – not only to provide more buoyancy, but also better insulation and less condensation to boot!
We're very excited about this little high performance cruiser and we would love to share more details with you. Perhaps we can show you our demonstrator model. We think you'll be impressed.
So, get in touch now to find out more!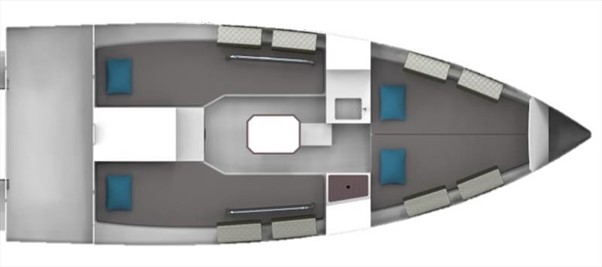 Important Environmental Note: BYD are using 'green' resins and cores in this vessel. Approximately 1,400 plastic bottles are being recycled in the manufacture of each boat!
Boat Data
Length Overall – 6.81 m
Hull Length – 6.58 m
Length of waterline  – 6.56 m
Beam maximum – 2.5 m
Draft keel down – 1.5 m
Draft keel up – 0.51 m (Bulb-keel version)
Air draft – 10.6 m
Lightship displacement (trailer weight)  – 940 kg!
Ballast – 365 kg
Outboard Engine – 5 hp ( 3.8 kW)
Fuel Capacity  -12 litres
Water capacity – 20 Litres
Maximum crew – 6 Persons
Berths – 4
Rig Data
Mainsail – 16.1 sq.m
Jib 100 % – 10.05 sq.m
Jib 110% – 11.3 sq.m
Gennaker – 50 sq.m
I –  8.46 m
J – 2.47 m
P – 8.89 m
E – 2.98 m
Construction
Hull :
Multi-axial foam sandwich laminate with isopthalic resin onto a gel
coat for osmosis protection.
Deck :
Multi-axial laminate with isopthalic resin and PVC core for rigidity
and good thermal and sound insulation
Keel :
Lead bulb fixed to a steel fin with a isopthalic and multi axial
laminate around to form foil shape.// lifting keel into structural box
inside the boat.
Rudder :
Built in mould with PVC foam Sandwich construction with isopthalic
resin system // rudders are retractable w/ sleeve system, leading
under deck connecting tiller with link rod.
Deck Equipment
Stainless steel stem with roller
2 x Stainless steel pushpit
4 x stainless steel stanchions and lifelines
4 x mooring cleats
2 x winches on coachroof
2 x double clutches on coachroof
2 x genoa sheet tracks w/ Adjustable genoa cars
Main sheet traveller track with car and control blocks
2 x spinnaker blocks
Engine locker
2 x cockpit lockers
Tiller w/ extension
Forward hatch to interior (escape hatch)
Mast / Standing Rigging.
Fractional rig
Aluminium deck stepped mast
Aluminium single line reefing boom
Mast Step Fitting w/ blocks
Stainless steel standing rigging
Boom vang
Running Rigging.
Main halyard
Jib halyard
2 x genoa sheets
Main sheet
Outhaul for main
Spi halyard
2 mainsheet traveller car adjusting lines
Reefing line
Cunningham
2 x Gennaker Sheets
Standard Sail Pack.
Mainsail
Jib (100%)
Interior Layout.
4 berths
Galley unit / sink with tap
Bunk cushions
Custom cabin top windows
Water System.
Manual Blige Pump
Fresh water foot pump
20 litre fresh water tank
Misc.
1 winch handle
Owner's manual
Powder extinguisher 2 kg
Price
Standard Price Inc. all of above  £43,950 (Inc. VAT / Ex. Delivery)
Please contact us for more details and customising options for the BTC22

BTC-22 High Performance Trailerable Cruiser
LOA: 6.81m
Draft: 1.5m
Displacement: 940kg (Trailer weight)
Mainsail Area: 16m2
Genoa Area: 10m2
Berths: 4
Price from £43,950 inc. VAT