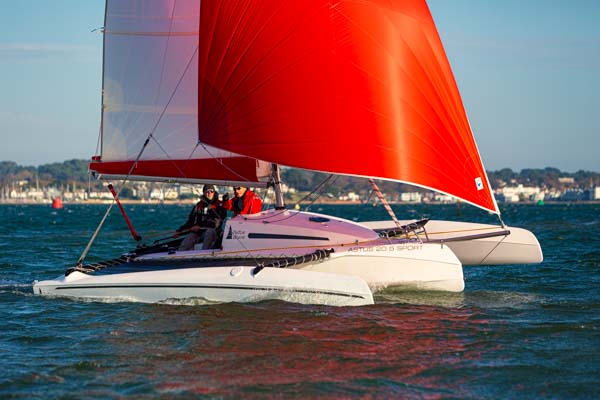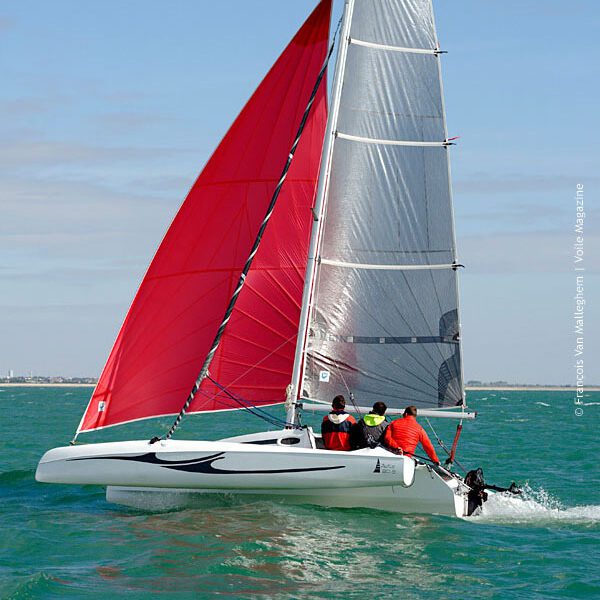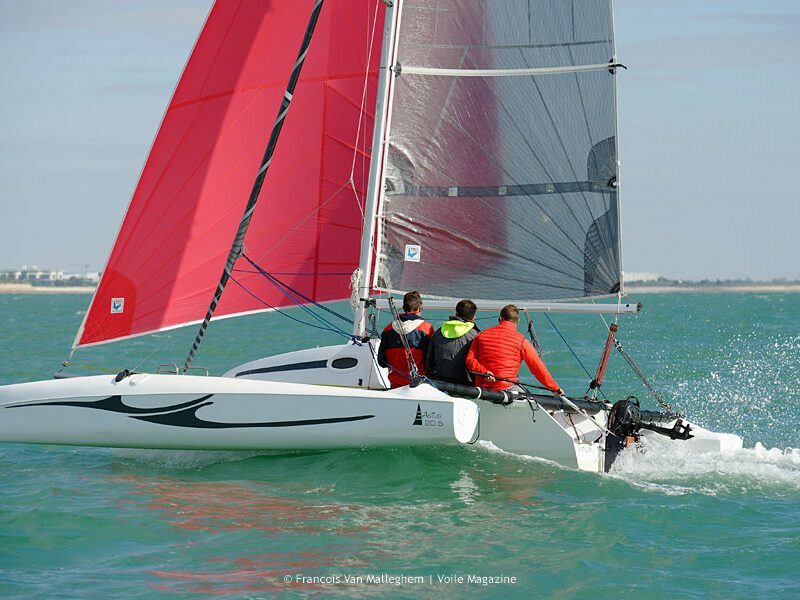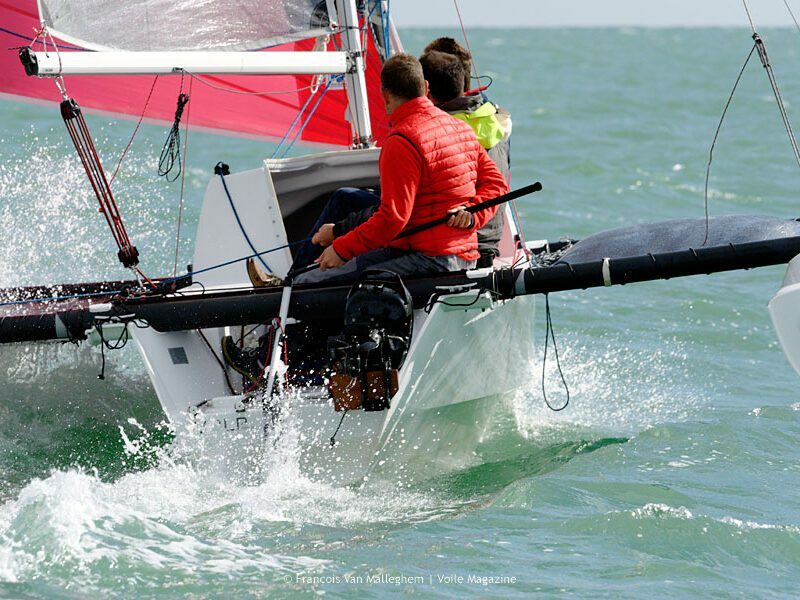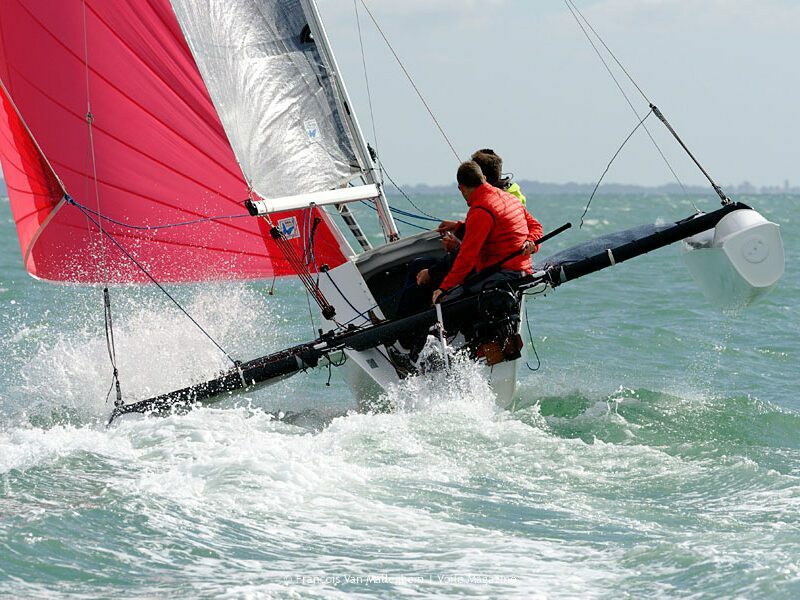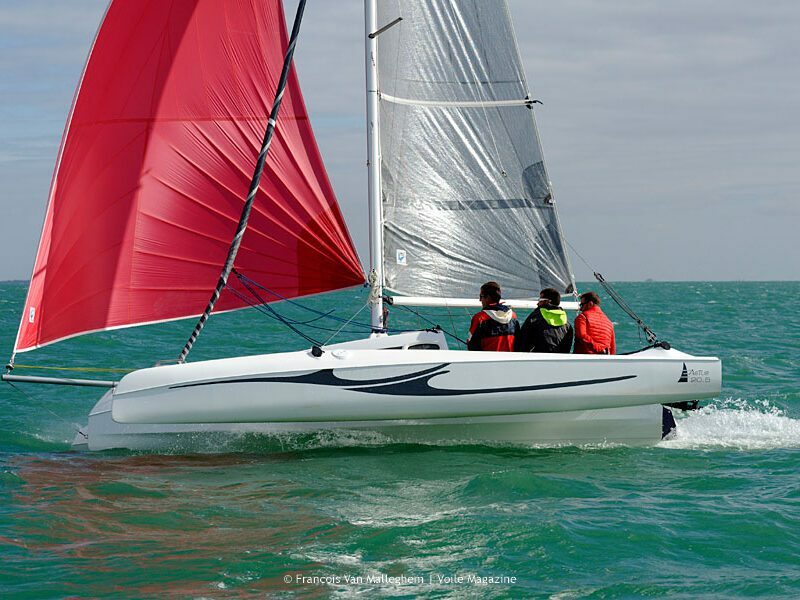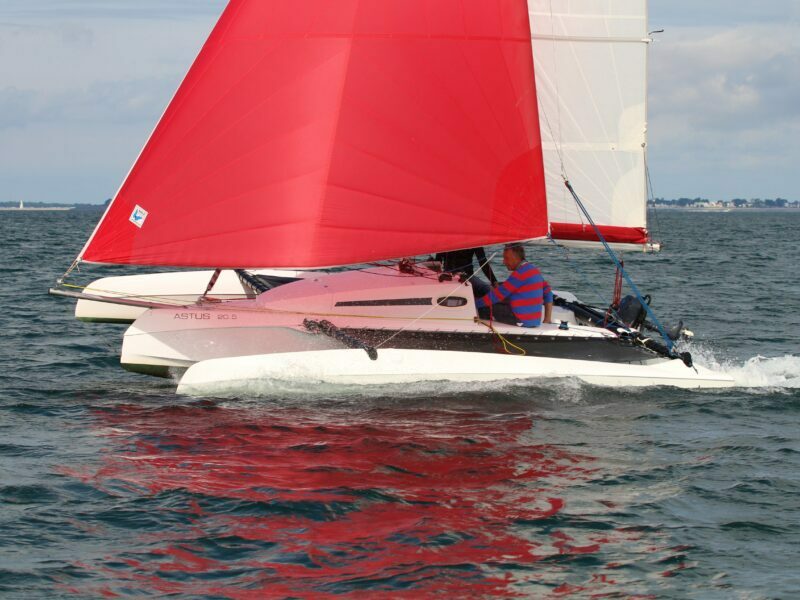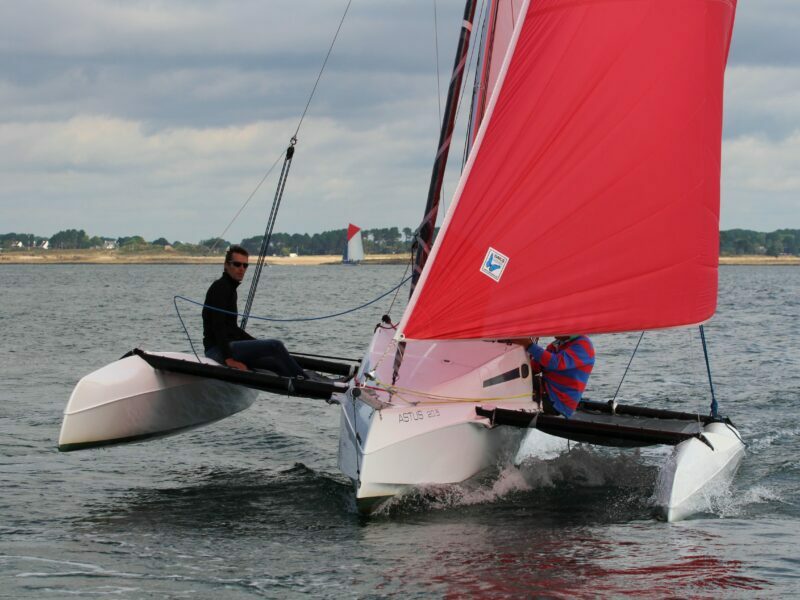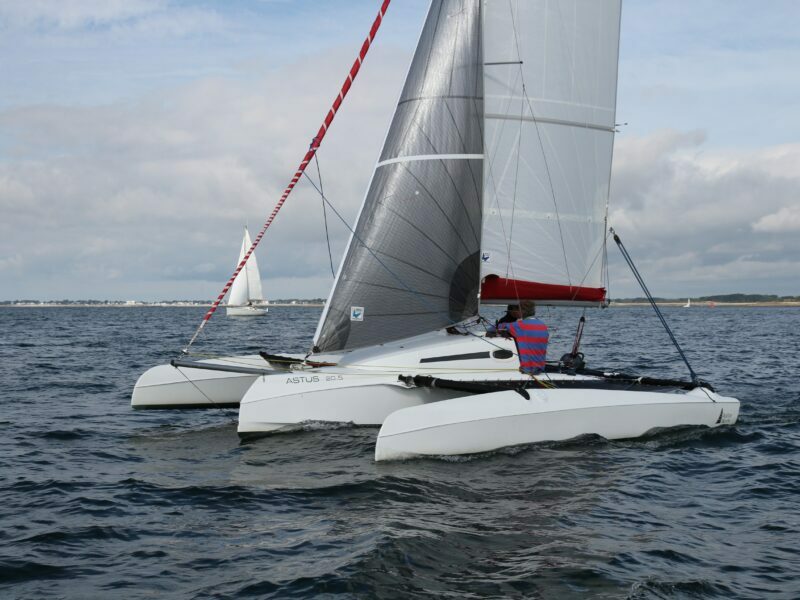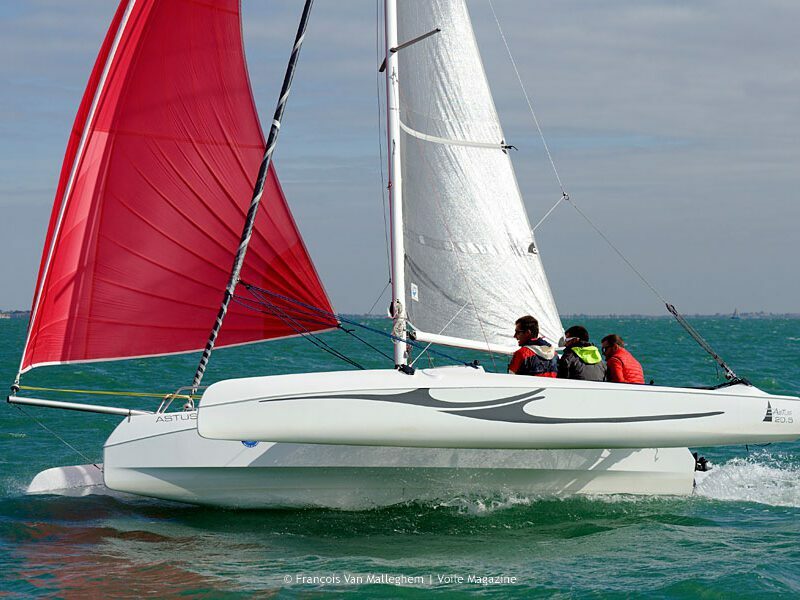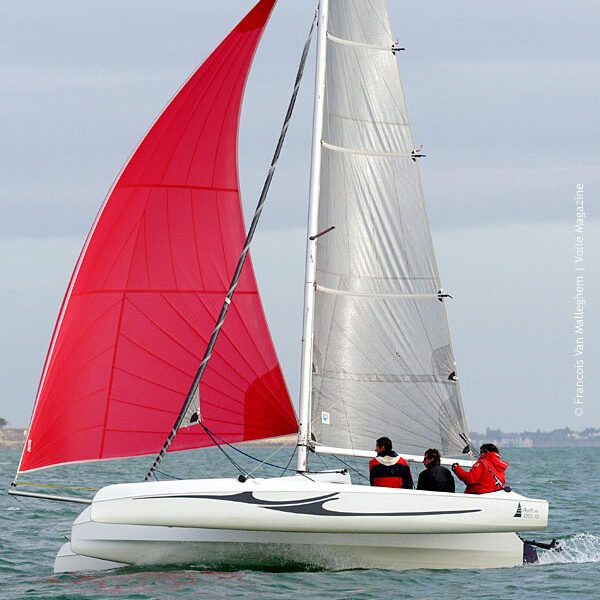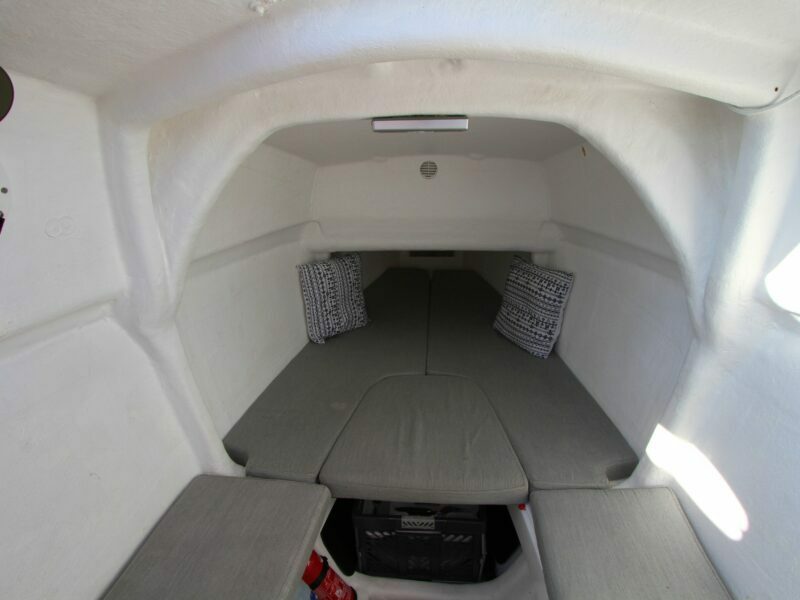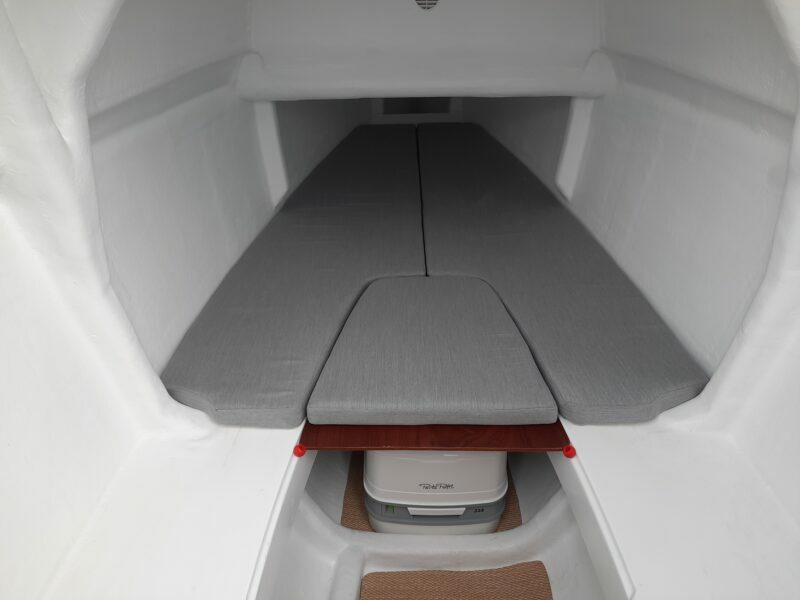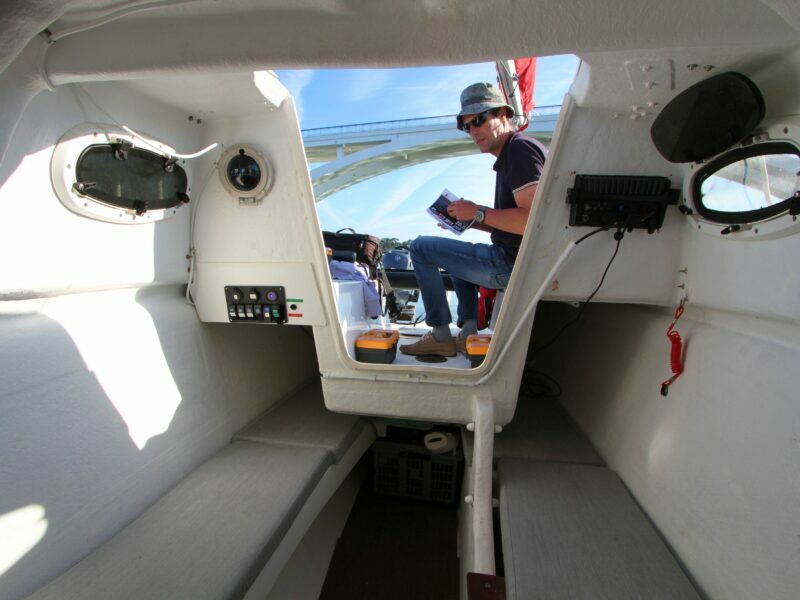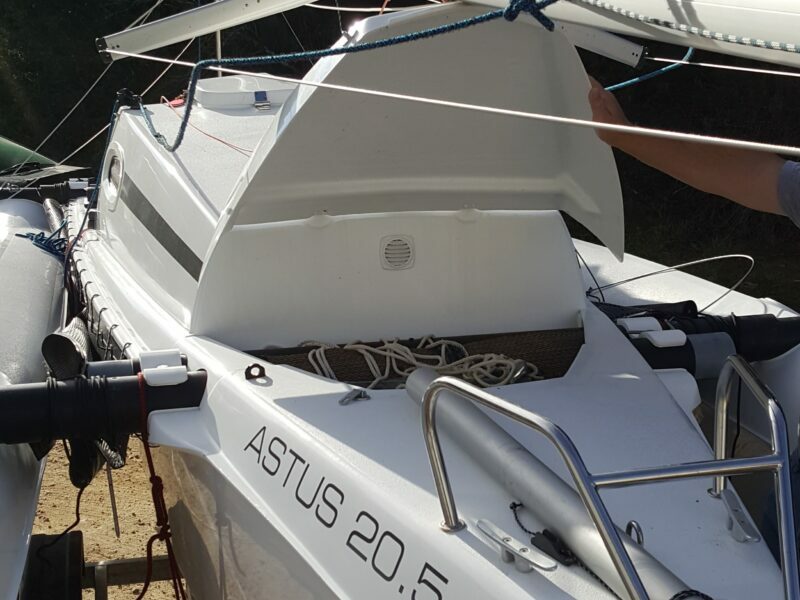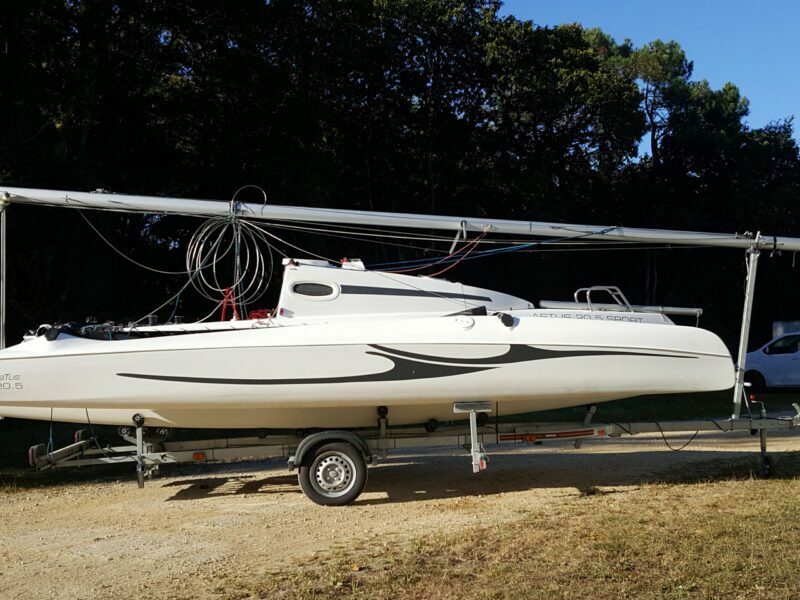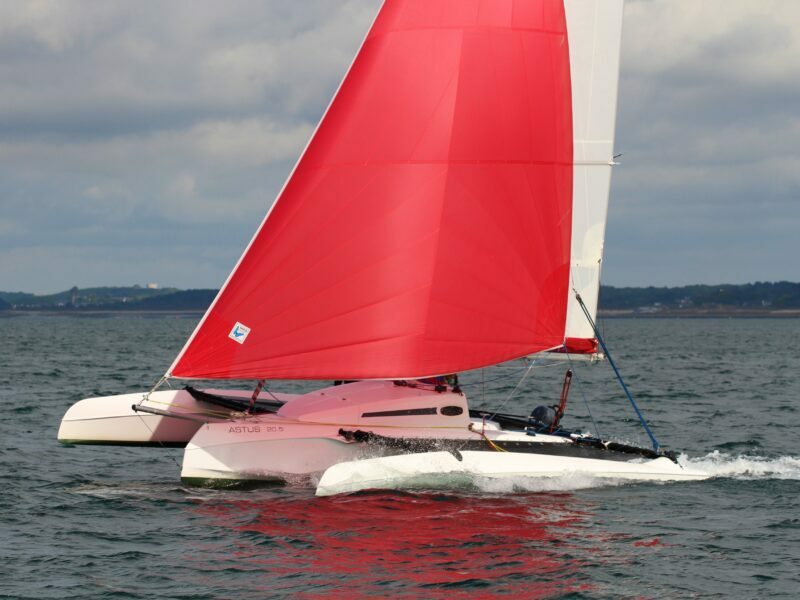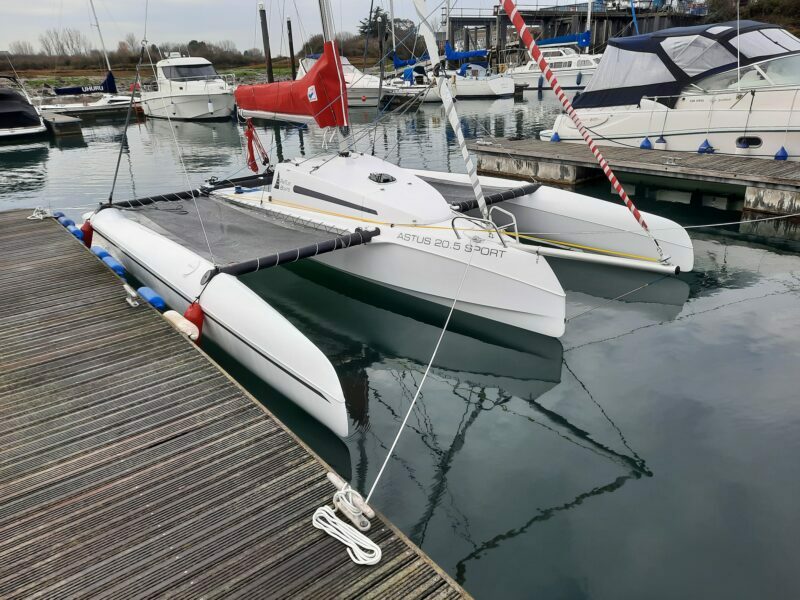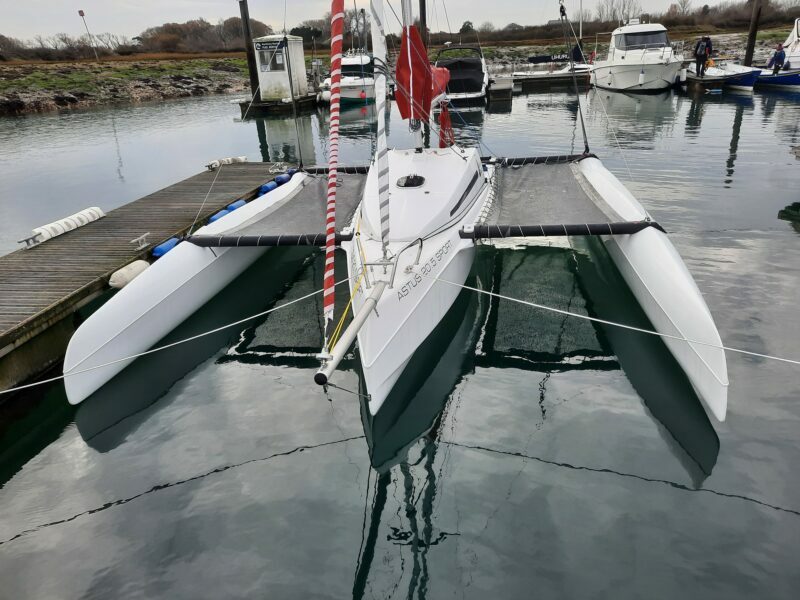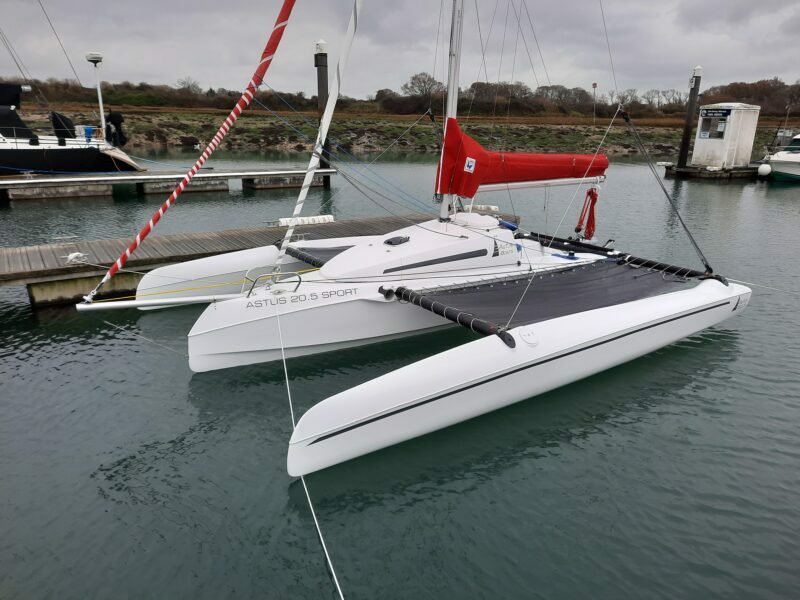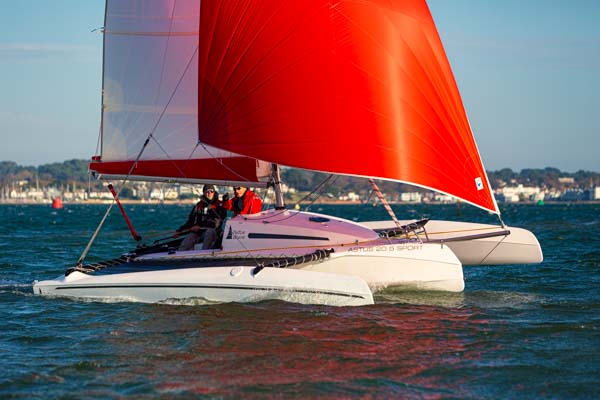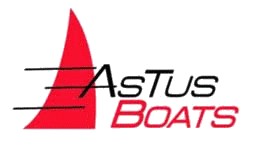 Astus 20.5
LOA: 5.95m
Draft: 1.25m/0.25m
Displacement: 490kg (Resin Infusion)/540 (Contact)
Max. Unfolded Width: 4.5m
Max. Folded Width: 2.48m
Berths: 2
Price from £39,950 Inc VAT
Summer Offer!
Get hold of our 20.5 stock boat – available now! 
Offering exhilarating performance yet easy to rig, handle and tow to your favourite sailing areas, the Astus 20.5 trimaran is now even better.  The Small Yacht Company are giving away a free gennaker with furler and bowsprit with the 2023 stock boat we have on site right now!
Described by Astus Boats as their Coastal Cruiser, the 20.5 is rapidly becoming their most successful trimaran to date. No wonder. As a result of its  partnership with world renowned naval architects, VPLP, Astus Boats have come up with a real head turner. Huge floats with wave piercing hulls placed further apart and forward give the new 20.5 a very contemporary look and a truly stable platform.
Blistering speeds can be achieved at a crew-friendly low angle of heel. Of course, with speed comes extended range. Previously out-of-reach destinations become a real possibility for day-trips or weekends thanks to a cabin for two, featuring a long v-berth, plenty of storage and an off-set centre board for easy access.
The Astus 20.5 succeeds the popular Astus 20.2, of which 120 were sold. With the 20.5 Astus have been bold – the new boat builds on the successful features of previous models but now goes a whole lot further:
– High-performance with modern, sporty lines offering effortless double digit boat speeds
– Stability and a low angle of heel courtesy of massive 930 litre floats
– Simple to rig and handle – single handed mast stepping is realistic
– Easily towed –  the 'Infusion' built boat weighs in at only 490kg, so it can be towed by a Ford KA!
– Retractable floats and shallow draft provide limitless opportunities to explore new sailing areas
– Can be used as a weekend cruiser with a long v-berth for overnight stays and masses of storage under the cockpit
– Low cost of ownership – maintenance is minimal and garage or driveway storage is a realistic option
– Multiple options from 'Leisure' to ultralight 'Infusion' models and sport rigs to suit every sailing style
– Affordable prices, starting at only £30,250 inc VAT/ex works (all prices are subject to the prevailing exchange rate).
Special Offer!
We have a new 2023 stock boat on site right now, ready to go with:
Break-back road trailer
Bigger sports rig
Sports sail control fittings
Stainless steel pulpit
Outboard bracket
Coachroof hatch
Free gennaker, furler and bowsprit!
All for £39,950 inc VAT!
But hurry – we only have one stock boat available. When its gone, its gone!
Or enquire today about the detailed Astus 20.5 price list and to find out more
Still not convinced? Don't just take our word for it, read the review by David Harding of Yachting Monthly magazine who describes this exciting trimaran as 'tremendous fun'! Or try one yourself – we have a demonstrator ready in Hampshire.
Overall length central hull: 5.95 m
Float length: 5.90 m
Max unfolded floats width: 4.50 m
Folded floats width 2.48 m (within maximum towing width)
Displacement: 490 Kg (with main hull in infusion build)
Float volume: 930 litres / float
Draught:1.25 m/0.25 m pivoting center-board and rudder
Sail area upwind: 21 m² standard version / 24 m² sport version
Sail area downwind: 34 m² standard version / 42 m² sport version
Maximum engine power: 6 HP (4.5 kw)
EC Categorisation:

Category C: 5 persons 425 Kg
Category D: 7 persons 550 Kg
Design: Jean-Hubert POMMOIS
Architect: VPLP Design
Two versions to choose from:
THE ASTUS 20.5 LEISURE INCLUDES:
Sail area upwind: 21m ²
Sail area downwind: 34m ²
Mainsail in dacron, one reef with boom
Jib in dacron with Furler
Forward storage area and storage under the cockpit
4 block main sheet
Mainsail track
2 trampolines
Pivoting centreboard and rudder
THE ASTUS 20.5 SPORT VERSION INCLUDES:
Sail area upwind: 24m ²
Sail area downwind: 42m ²
Square top mainsail and jib in Aramid Black Technora
Option of a wing mast
Winch for sport gennaker
Endless jib furler
Traveller for mainsheet
6 block mainsheet tackle
Telescopic tiller extension
Sport graphics
More info: Astus Boats Website
Review: Yachting Monthly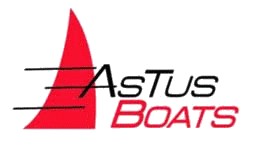 Astus 20.5
LOA: 5.95m
Draft: 1.25m/0.25m
Displacement: 490kg (Resin Infusion)/540 (Contact)
Max. Unfolded Width: 4.5m
Max. Folded Width: 2.48m
Berths: 2
Price from £39,950 Inc VAT